Charles Edward Anderson "Chuck" Berry. Born October 18, 1926 in St. Louis (USA) – March 18, 2017 St. Charles, (USA).
American rock musician' singer, guitarist, songwriter. Chuck Berry was born on October 18, 1926 in St. Louis. Father – Henry Berry, was a contractor and deacon of the Baptist church. Mother – Martha Berry, director of the school. From childhood he was fond of music. He gave his first concert in 1941 while still at school.
In 1944, while still at school, Berry and two friends, using a broken gun, robbed three stores in Kansas and stole a car, for which all three were convicted of armed robbery and sentenced to 10 years in prison. In conclusion, Chuck continued to make music: he organized a musical quartet. He was released early when he was 21 years old. With the beginning of family life, he gets a job in St. Louis – there he worked as a worker at an automobile factory, later he got a job as a cosmetologist at the Poro College of Cosmetology. With the money they earned, the family bought a small three-room brick house on Whittier Street. In the early 1950s, to earn extra money, Berry began playing clubs in St. Louis with various local bands. It was in one of them that he began to perform country music, colored with blues techniques. He also studied guitar with his friend Ira Harris. This innovative mix of styles (each with its own racially divided audience) brought him local fame.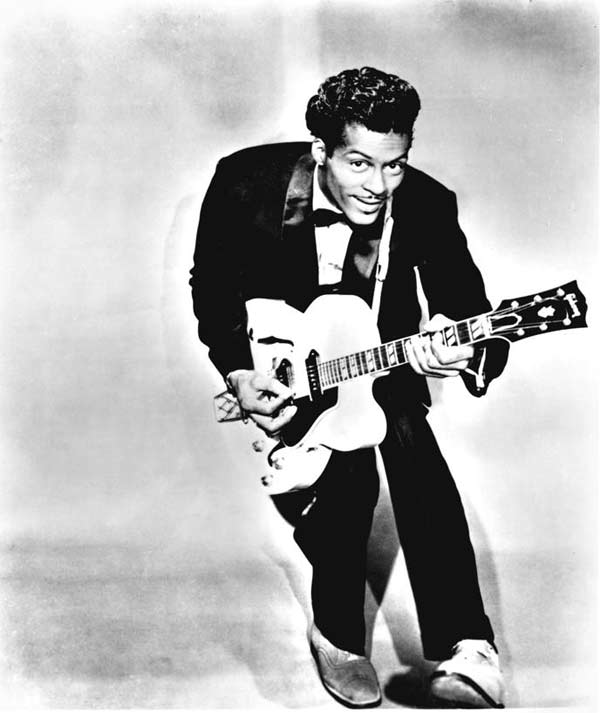 Chuck Berry in his youth In 1953, Berry formed the Johnnie Johnson Trio, which began Berry's collaboration with Johnny Johnson. Despite the fact that the band played mostly blues ballads, many critics considered their style to be country. In May 1955, Berry, on the advice of Muddy Waters, contacted Leonard Chess, owner of the blues label Chess Records. He became interested in the guitarist, and it was his experiments with country music, rather than his blues, to the surprise of Berry himself. On May 21, Chuck Berry's first single, "Maybellene", was recorded at the firm's studio, combining the pressure of rhythm and blues and country style. The single sold over a million copies and peaked at number 1 on the US Rhythm and Blues charts, reaching number 5 on the main US national charts in September.
Having finally found his own style, Berry began to release one after another hit singles that became rock classics: "Thirty Days" (1955), "Roll Over Beethoven" (1956), "Brown Eyed Handsome Man" (1956), "Rock and Roll Music" (1957), "Sweet Little Sixteen" (1958), "Johnny B. Goode" (1958) and others. Chuck Berry – Johnny B. Goode As an author, Berry stood out among the figures of early rock and roll: the lyrics of his songs were a kind of small stories, full of unexpected turns and irony, he was dubbed "the poet of rock and roll" for a reason. Since 1958, the singer's long-playing records began to come out. In addition to rock and roll, they also included blues compositions, often instrumental. Berry toured extensively and took part in the filming of two rock and roll feature films – "Rock, rock, rock" (1956) and "Come on, Johnny, come on!" (1959).
At the very end of 1959, Berry became involved in a lawsuit involving a former cloakroom attendant of his St. Louis club who was engaged in prostitution.
As a result of the trial, Berry was fined $5,000 and sentenced to 5 years in prison. He was released early after spending three years in prison. While Berry was in prison, Chess Records, however, released records of the musician. Rockin' at the Hops was released in 1960, followed a year later by New Juke-Box Hits. Berry's interrupted career took an unexpected revenge in the face of the "British Invasion" of the mid-1960s. Berry's songs were covered by almost every new British band, including The Beatles, The Rolling Stones, The Kinks, The Animals, The Yardbirds and others.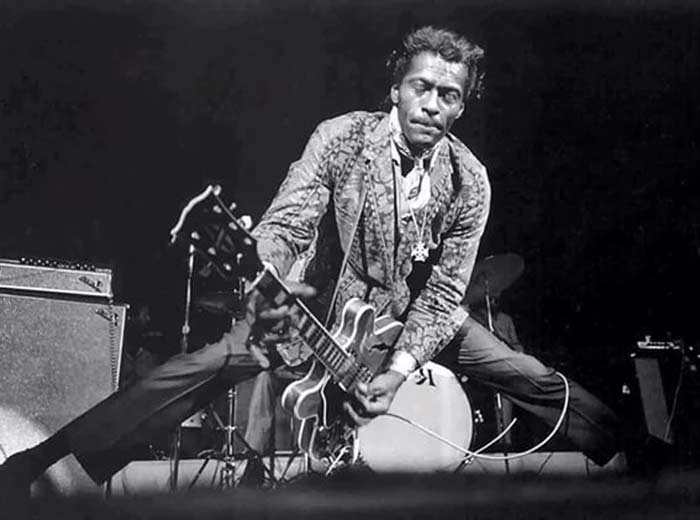 Berry also returned to the classic rock and roll style and recorded several albums and 7 singles in 1964-1965, two of which entered the US national hit parade twenty ("No Particular Place To Go" and "You Never Can Tell" The last song was given a second life thanks to a scene from the movie "Pulp Fiction"). He also recorded the single "Nadine". Chuck Berry & Keith Richards – Nadine In May 1964 he made a successful UK tour. Between 1966 and 1969, Berry released five albums on the Mercury label, including his first live album, Live at the Fillmore Auditorium, in which he was backed by the Steve Miller Band. He also played several shows in North America. In 1966, the singer moved to Mercury Records. It was at this time that new nuances appeared in Berry's work: the singer introduced elements of psychedelia into his performances.
On the new label, the musician re-recorded his hits and released two albums with new material – From St. Louie to Frisco" (1968) and "Concerto in B. Goode" (1969).Both of them did not bring commercial success, as well as singles from them. Working for Mercury Records was not a successful period. In 1970, Berry returned to Chess Records and recorded several new albums: Back Home (1970), San Francisco Dues (1971), The London Chuck Berry Sessions (1972), Bio (1973). Several singles were also released, one of which – "My Ding-A-Ling" (1972) – paradoxically brought Chuck Berry the first place in the US national hit parade for the first time, despite the fact that it was a half-joking live cover version. Berry left the label in 1974. After releasing three more studio albums in 1974, 1975 and 1979, Berry finally switched to concert activity, touring the whole world (Berry came to Russia several times).
In 1979, a criminal case was opened against Berry for tax evasion.
As a result, the court sentenced Berry to 4 months in prison and 1000 hours of community service. In 1986, he was inducted into the National Composers Hall of Fame. In 1990, a scandal broke out: Berry was sued by several women who accused the singer of installing secret surveillance cameras in the women's restrooms of his own club. The case was decided not to go to trial (presumably Berry paid $1.2 million to the plaintiffs). From 1996 to 2014, the singer performed weekly on Wednesdays at his Blueberry Hill club in St. Louis and occasionally went on tour, including as part of a farewell world tour, the musician gave three concerts in Moscow.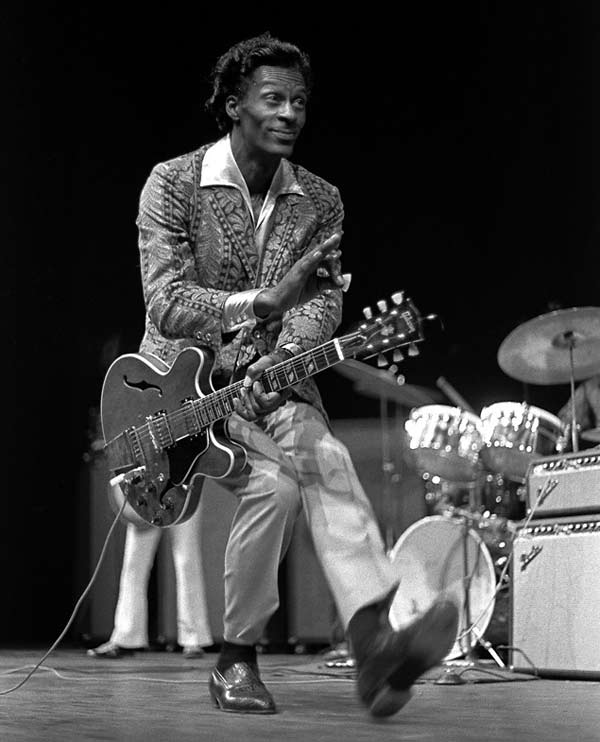 On his 90th birthday, Berry announced a new album, Chuck, for a 2017 release. This is the musician's first album since Rock It, released in 1979. In total, Berry released 51 singles (the only 1st place went to "My Ding-A-Ling") and 20 studio albums, the vast majority of which did not hit the charts. He died on March 18, 2017 in the American city of St. Charles. The musician passed out in his house. The St. Charles County police arrived at the scene, but despite all the attempts of the doctors, it was not possible to bring Berry back to life. Death was recorded at 13:26 local time.
Many famous musicians, including Ringo Starr, Mick Jagger, Brian Wilson and others, expressed their condolences on the death of Chuck. On June 25, 2019, The New York Times Magazine named Chuck Berry among hundreds of artists whose material was reportedly destroyed in a Universal Studios fire.