Angelique Bouchard
So, from the original series, we know that Angelica was actually the witch Miranda DuVall, who was born in Martinique. She betrayed her dark teacher, Judas Zachary, who for some reason, before the execution, CURSE THE ENTIRE COLLINS FAMILY, and not herself.
Some of these villains are stupid and completely illogical, by golly!
Actress Lara Parker as the witch Angelique Bouchard Collins Rumson (as well as her incarnations – Valerie Collins and Cassandra Blair)
It is also unclear how she became the servant of Josette DuPré, whose father, André DuPré, was also Angélique's father. From the background of Angelique Bouchard, we learn that the girl, until she reached a certain age, was brought up by a certain Theodore Bouchard, from whom she took the surname Bouchard.
And only later, after Barnabas's visit to Martinique, she fell in love with him without a memory and was upset that he preferred Josette DuPre to her.
And then you know: the manipulation of Barnabas' uncle Jeremiah, the suicide of Josette, the vampirism of Barnabas himself, who in a rage strangled Angelica in the secret room of the Mausoleum, but she still found a way to return later …
There are also two alternate timelines in the series, 1795-96. The first occurs when Barnabas Collins returns to rescue Victoria Winters from the gallows after her return from 1968-1795. In this timeline, Ben Stokes and Barnabas destroy Angelica with fire.
In the second timeline, Barnabas in 1897 returns to 1795 following Kitty Soames, who has disappeared into Josette's portrait. There, Angelique tries to convince Josette to throw herself off Widow's Hill, as she did in the first chronology of 1795, but Barnabas sends Nathalie du Pre to rescue her.
As a result, Josette kills herself again, and Barnabas is intercepted by the Leviathan race, who loses her forever. Angelica is not destroyed in the third and final timeline.
Later we know that Angelica has been constantly introduced by different names in different eras in order to ingratiate herself with the Collins family, sometimes helping them, sometimes ruining their lives and committing crimes. So, under the name of Cassandra Blair, she became the second wife of Roger Collins, not embarrassed to cheat on him with Tony Peterson and manipulate him. When Elizabeth Stoddard, Roger's sister, saw "Cassandra" with Tony and threatened to expose her, Angelica cast a spell on Elizabeth that left her in a death-like state. Believing that Elizabeth had died, the Collins family unknowingly buried her alive.
Then she terrorized the whole family with the so-called "Curse of Sleep". Angelica was destroyed by the ghost of Reverend Trask, whom Barnabas walled up in the basement, but she was resurrected by the warlock Nicholas Blair as a vampire and tried to enslave Barnabas (the 600th episode of the series tells about this).
The only time Barnabas, who was supposed to hate Angelica, nevertheless turned to her for help, was the confrontation of the Collins family with the powerful race of Leviathans, for some reason introduced into the plot.
And then – a war with a certain Count Andreas Petofi (known under the pseudonym Victor Fenn-Gibbon), also a sorcerer, whose hand could heal from lycanthropy (!) And was a trophy for the gypsies.
A struggle ensued that led to a fire in the Collinwood mansion, the burning of the building and, probably, the destruction of Petofi himself, who no longer appeared in the series, but in the audio drama based on him "The Crimson Pearl", where the sorcerer tried to take possession of the pearl from Barnabas's cousin, Millicent Collins , in 1820.
Angelica is last seen on the show as Valerie Collins, where she helped Barnabas counter the threat of warlock Judas Zachary through Gerard Stiles and undertaker Lamar Trask, the son of a witch hunter who was killed by Barnabas in the show. Lamar has come to Collinwood to discover the truth about the disappearance of his father, Reverend Trask, and avenge his death.
And there are two storylines – in the first, Lamar dies without knowing who killed his father, and in the second, alternative, Barnabas is walled up alive in the basement of his funeral home as revenge, until at the very last moment due to a warning the ghost of a local girl, Roxanne Drew (who also managed to visit a vampire), was not saved by Julia Hoffman and Willy Loomis.
So, Angelique Bouchard under the name of Valerie Collins confronts these two men. And it seemed to me that the writers somehow ended the series incorrectly. Firstly, Judas Zachary easily deprives the magical power of a witch who has been killed a bunch of times already, but could not get rid of.
Secondly, it is outrageous that when Lamar Trask shoots Angelica, Barnabas stands up for her, apparently forgetting at the end of the series that she was the cause of all his misfortunes and killed his beloved, younger sister Sarah Collins and a bunch of his other relatives!
And she confesses her love. I think this ending is too illogical and inappropriate. Consider, she did get her way … (we see this in episode 1198 of the original "Dark Shadows").
Later, in the audio dramas created based on the series by Big Finish Productions, Angelica is for some reason resurrected by Quentin Collins and Willie Loomis… Somehow I never noticed Willie's necromancer abilities…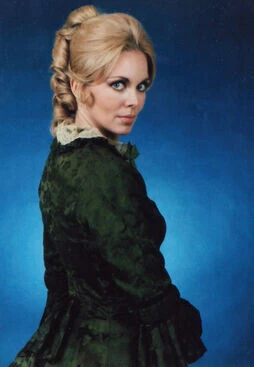 Actress Lisette Anthony as Angelique Bouchard
In the 1991 series, Angelica is the daughter of a voodoo priestess who is also from Martinique. From early childhood, she was hired as the servant of Josette DuPre and developed a false friendship with her. No alleged relationship with Josette's father is mentioned here.
As in the original, she upsets the wedding of Barnabas and Josette, curses the unfortunate guy, drives his bride to suicide, but dies from the fact that she was stabbed with a knife, and not shot.
However, Angelica's evil spirit continued to haunt Collinwood, prompting all the terrible tragedies that befall every member of the Collins family, including the hanging of Victoria Winters.
Angelica then crossed timespace and continued to torture the Collins family in 1991. She returned as a ghost exorcist of Sarah Collins' younger sister. During a séance hosted by Maggie Evans, Angelica possessed Julia Hoffman.
In the original, Barnabas and Angelica were a married couple. Unlike the 1991 series Rebirth, she wasn't just a one-night stand he regretted. It was implied that there was some kind of connection between them, and later they even got married.
This is the key to the puzzle. They were husband and wife. Like Victor and Nikki Newman, Barnabas and Angelica's interactions throughout the show were fueled by the fact that they were an "old married couple."
Also in this version, Angelica could appear from the fire:
In the 1966-1970 original, the only character who had this gift was Laura Murdoch Collins Stockbridge: